I went to these charity shops that are pretty near my house on Friday, and what happened there was unspeakable, and, I'm pretty sure has made my mother disown me. But, it was my first visit to them in what may possibly be
months
, which I think is a pretty good excuse for my buying SIX books. Within the space of about an hour. For, I might add, the extremely purse friendly price of £8.25 (around $13 for my lovely American readers) so can anyone really complain? No, they cannot!
So, do you wanna see what I got?! Of course you do! First up I got
The Rough Guide to Sweden
, a little bit old but in absolutely perfect condition (I'm kind of sad that the previous owners probably never went there!) I bought this because I have a tiny bit of a Swedish obsession (for just some of the reasons why, go and see
this post
on my friend's blog) and this book is a little bit of a sneaky attempt to convince my sister that this is where we need to go on holiday this summer... I'll keep you posted on whether it works or not!
Next I got
Bob Dylan- Behind the Shades by Clinton Heylin
, a biography of the great man that will probably not be as good as his own
Chronicles
, but should still be pretty illuminating on someone who I find inherently fascinating. Fun little Bob Dylan story- I went to see him in concert with my mum, who spent most of the show looking at entirely the wrong person onstage... it was pretty funny!
I also got
I Feel Bad About My Neck by Nora Ephron
, and if you want to know why I bought this then you probably haven't seen When Harry Met Sally, or Julie and Julia for that matter, and you may not be aware of how awesome she is. Trust me, it's a lot. I am, as a consequence of her awesomeness, very very excited to read this book. Expect me to be loving it here soon!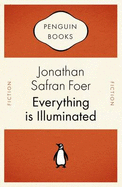 A bit of a last minute pick was
Everything is Illuminated by Jonathan Safran Foer
, because I'm pretty sure that I've either read good things about it or him that were pleasing to me, or possibly just because I read a short story of his in The New Yorker that was pretty good. Then again, it might just have been the new style (which is remarkably like the old style) Penguin Books cover that it comes in. I'm good with any interpretation you want to choose from the three!
I sort of don't want to admit to buying the next one, not because I'm ashamed of it really, but just because it kind of doesn't fit with the rest of the books that I talk about here. This doesn't mean that it's not worth reading, but that I don't really feel an urge to discuss it afterwards. Also, there are about 2 chick lit (can't describe to you how much I hate that term) authors that I really love, one of them is Sophie Kinsella and the other is the author of this tome,
Size Doesn't Matter by Meg Cabot
. Not exactly Shakespeare, but then again, who is? I have read the other two books in this series and, I'm not going to lie, I was really excited to find this, the final instalment. There, I said it. My name is Laura and I'm a Cabot-aholic. I'm sure I'll enjoy this and then not really think about it all that much. But I'll enjoy it! So yeah, I'm going to stop defending myself quite so vigourously against a charge that nobody made. Ahem.
And finally, I bought
Jonathan Strange and Mr Norrell by Susanna Clarke
, a book that I KNOW someone said was really awesome and was potentially on someone's top ten tuesday list sometime or something, so to the anonymous blogger, thank you; unless the book sucks and then I will find out who you are and come and tell you off. A lot. This was probably my favourite book purchase just because the book was so pretty and unread looking- not so good for the person who gave it up, but a big pleasure for me to buy a new looking book for £1.75!
It was, I have to admit, a pretty exciting Friday (only in book buying terms, other than that, nothing really happened!) and I managed to bore my cousin in my very first Facetime call by showing her all of these- I'm not sure she really appreciated it! I hope you all had very exciting book buying weeks too, and I'm really looking forward to checking out all your purchases later on! And hey- I hope you all have a great week!