I've been a pretty good girl this week, and have only bought two books- that this is the case is probably helped by the fact that I've been ill since Tuesday (although I did buy one of the books
on
Tuesday...) and so have pretty much just been in bed since then. There is, of course, still the internet, so I could have done a LOT worse, but I did in fact only buy one book online too. I feel like I need masses of praise for this fact, so please don't hold back in the comments!
The book I bought on Tuesday, which I put entirely down to peer pressure is
The Hunger Games by Suzanne Collins
, a book that has been so thoroughly over-hyped by book bloggers that it had better be the holy grail of YA Dystopian novels, or I am going to be severely disappointed with it! I am pretty excited to read it though, and hopefully it will be as good as everyone claims it is... I am a bit torn about it at the moment, because on the front there is glowing praise from Stephanie Meyer, which makes me shudder a little bit and not really want to read the book, but on the back there's a compliment from Stephen King, and I just don't know how to deal with the disparity of talent that both say this is a good book! So, basically, I'm just going to have to read it for myself and form my own opinions of it. *Sigh* like I don't have anything better to do... (no really, I don't have anything better to do...)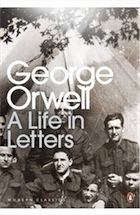 The only other book I got this week was
George Orwell: A Life in Letters
, so that 1) I can completely over-extend myself for October reading and basically know everything there is to know about Orwell for Orwell October, and 2) because I really love reading other people's letters. I have said on here before that I sort of hate it when people's diaries are published post-humously, but I see letters as being completely different, in that they now belong to the people they were sent to, and you wouldn't put anything in them that you didn't want other people to know anyway. So, yeah, I'm pretty excited to read those anyway, and if Steinbeck's life in letters is anything to go by, they're clearly going to be amazing!
Being ill this week, while severely unpleasant, has allowed me to do much blogging (and I even have posts ready! In advance! Trust me, this never happens...) and also to watch quite a few films since my head is all stuffed up and not always in a reading mood. So there might be a fair few film reviews to come in the next few weeks. This week, however, has been a bit of a mixed bag:
On Monday, I reviewed
Extremely Loud and Incredibly Close
by Jonathan Safran Foer, and discussed its various merits and negatives, with an inconclusive verdict on my final thoughts about it,
Tuesday was, as always, a day for me to make lists with much excitement, this week discussing the top
ten books I want to read this autumn
,
On Wednesday, I declared my interest in
R.I.P.
, a reading challenge where I can read many Stephen King books, and maybe scary books by other authors too (
are
there any other authors?) as well as reviewing
The Astronaut's Wife
, a film that was only scary in how awful it was.
Thursday saw the announcement of
Frances and Laura's unread book club
, where me and my friend read books that we both own and yet haven't read yet- so if you own The Golden Notebook and want to read it with us, head over there now and tell me about it!
On Friday, continuing on with my Stephen King Quest, I encountered another man on a quest in
The Gunslinger
, starting me off for the second time on my journey through The Dark Tower series,
And finally, on Saturday, I revealed my not-so-secret
love for Luke from Gilmore Girls
, in a list of carefully considered character traits that are all great reasons to love such a man!
And that's what my week looked like! Except, imagine more phlegm and swollen tonsils and temperatures and stuff, and that's what it actually looked like. But online, it was a lot less painful...