Hey kids! It's Sunday again, and I actually have things to say to you! Just like I did last week! Killing this weekend blogging thing, even if I'm not doing anything in between... What can I say, it is what it is. Since this week is Reading Week (i.e. a week off) from University, I have a teeny bit of time for updating you on what is, obviously, my extremely exciting and eventful life that isn't killing me really slowly.
SO. I realised on Wednesday that it was still October. I say this because I started my MA on the first of October, and my last seminar before Reading Week was the 30th October. This isn't a complaint so much as a complete disbelief on my part that I've only been doing this a month and I'm already so tired and have read so very much. Honestly, I don't really know how I've done it, except that this last week quite a bit of vodka has gone missing from my bottle and so it's been pretty great.
Anyway. Let's talk about procrastination! (Not vodka. Even though it's the best.) I am the absolute worst for procrastination. When I
have
to do something, I automatically don't want to do it- you could probably ask me to go to a moomin festival or something, and because I was required to go, I just wouldn't want to. It's the most ridiculous, self-defeating way to live ones life, and I know that, but seriously you guys, I CAN'T HELP IT.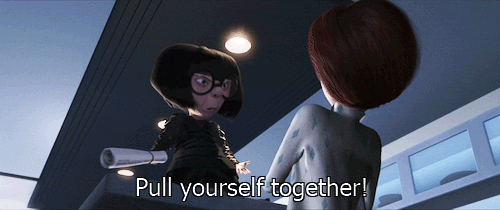 I basically need this, daily.
So anyway. Here's what I'm procrastinating from at the moment: I have to write two seminar papers, which are basically thousand word essays (that I have to READ OUT. IN FRONT OF PEOPLE. I'm trying to ignore that part completely) on obviously Shakespearey things, and I basically have less than three weeks to write one, and less than four weeks to write the other (I'm the genius who picked these weeks, too. Bad times.) It's not like I can't write a thousand words in super fast time- I'm pretty sure I've written reviews here that were longer than that, sorry guys- and it's not like I'm incapable of picking topics, reading about them, and then writing about them.
I AM ABLE TO DO ALL OF THESE THINGS SO WHY CAN'T I JUST DO THEM?!
I'm actually being quite incredibly hard on myself right now, because pretty much the reason I haven't done them is because I've been trying to get all the reading done for each week of learning, whilst simultaneously doing the exact same amount of paid work as I was doing before I started reading a Shakespeare play a week, plus countless articles about him. Really I'm just telling myself off because it's Saturday (as in, my first day off of actually everything for a month) and I haven't started working on these essays yet. CUT ME SOME SLACK, ME!
So, I'm glad we worked out these issues together. Good talk, everyone. More things that are going on: My dad is home from hospital at last! It kind of hasn't sunk in for me because I haven't really had time to see him more than I was before, but it is comforting to know that he's home, and it was really nice on Thursday because my mum came round to drop some stuff off and actually stayed for a coffee, which she really wouldn't have been able to do if he was still in hospital because she's been running around like a headless chicken for basically four months.
What else... Well, I've been watching The Hollow Crown, which is this BBC series of films of Richard II, Henry IV Parts One and Two, and Henry V; which is totally the best of both worlds because I feel like I'm doing useful work when really (really) I'm kind of just watching the TV. Yesterday afternoon I watched Richard II, and I did watch the first part of Henry IV on Wednesday but kind of... fell asleep. So I'm probably going to watch that again, is what I'm saying. BUT it has given me a crush on Tom Hiddleston so there's that. I've also become disturbingly obsessed with Samuel Beckett because I read Endgame and it was kind of everything to me, so yesterday I spent a ridiculous amount on his complete works in Waterstones (BUT... £10 off with my loyalty card so YESSSS. The fact that I've spent £100 in Waterstones... Less yes). I can't even process how I like Beckett, but I feel like if you've read The Outsider by Camus and liked it, then you'll kind of be into Beckett? They're connected in my brain at the moment, anyway.
So. This has been my life, yes. I'm going to try and stop being hard on myself whilst simultaneously actually doing the work that I've been moaning about not doing. I just need to talk myself out of basically reading
this blog post
as one of the presentations... YOU HAVE SAID FUCK TOO MANY TIMES, LAURA, JUST NO.
And how are you all?