I watched Inception again last night, and I definitely don't even want to attempt to review it (just know that I basically think about it in exclamations and squeals) but just know that I'm actually now slightly more confused about the entire thing than I was when I first watched it. Also, that van takes a really long time to fall, which is something I always forget when I watch it.
There are just three things I want to say about Inception, one of which is completely snarky, but is said with utter love. Firstly, though, allow me to point out, as I do to everyone who is going to watch it/has watched it/doesn't even care about watching it, that, even though the concepts are completely and utterly mind-bending and difficult to even consider at all, the actual plot of the movie is really straightforward- they go through the dreams methodically, it is clear that everyone knows what their job is, and no one is too freaked out about the dream layers, and it all works itself out in the end anyway. Or does it? Here's the second thing that annoys me: the uncertainty of the ending drives me utterly insane- I can't even count the times I have thought about it, alternately dismissing one possibility and accepting the other, then switching again; but for me there is only one option that allows me to sleep at night, so that's the version I choose to accept. (If you haven't seen the film and this makes no sense, then GO AND WATCH THE FILM).
Here's the third thing: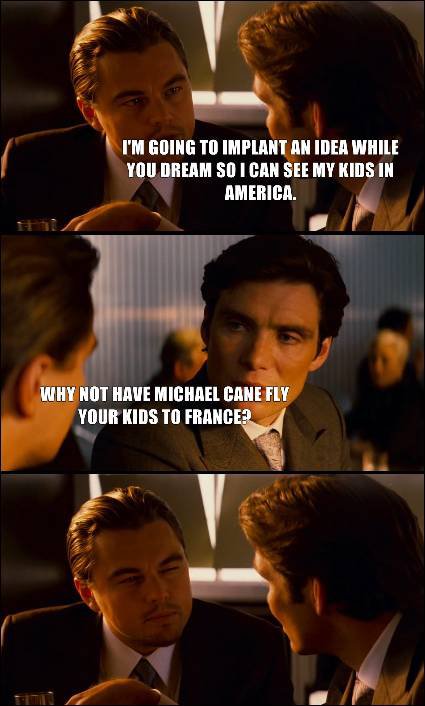 I saw this last year, and it made me go 'yeah, why didn't he actually?!' This has not affected my love for the film one iota, I just want to point out. But still. Lol.